Technical Excellence Contributor
No one lists the actual length of the Goodridge lines - only +2" (or 4") over stock length, so I ordered the Goodridge BA161 stock length from Bearmach (along with some other brake line parts). My existing hoses are only 18" (see pic). I'll update with hose length after I get them.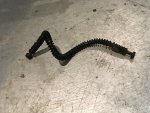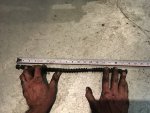 I planned on upgrading my hoses anyway. Now for the really embarrassing part - It wasn't the hose that lost all my brake fluid. It was a self inflicted problem - apparently I didn't torque the bolts properly when I replaced the brake calipers & pads. Over time, I lost a bolt (see pic #3 top bolt). The loose movement of the caliper broke the brake line between the caliper & hose bracket. Admitting this might help reinforce proper torquing. I know some bolts are a one time use - should these bolts have been replaced with new when I replaced my calipers?