Technical Excellence Contributor
I think THAT post (in the thread "LT77 Gear Box & LT230 Transfer Box Switch - No Lift") set up what happened next.
Everything was going well with this swap until it was time to back it off the ramps to level so I could add fluids. I removed the wheel chocks & released the tension on the winch cable expecting it to roll it off the ramps. The cable went slack to the floor, but my 110 didn't move, so I pushed it with my shoulder to get it rolling - Then realizing the cable slack will be taken up suddenly, I tried to wind it in as my 110 rolled down the ramps & SNAP went the floor anchor!
Yes, I should have placed the wheel chocks a couple feet behind the wheels or better yet had my wife sit in the seat ready to hit the brake, but I didn't, so after desperately hanging on to the cable & digging my feet in to try & stop the slow roll, then grabbing a wheel chock & aiming to throw it in front of a wheel (I missed), I watched my 110 slowly roll out of my garage, down my steep driveway & into the ravine.
Okay, not all the way into the ravine... some scrub oak trees stopped it from going more than 75% into the ravine.
Between my brand new bike rack, spare tire carrier & step bumper, my 110 suffered surprisingly little damage - Broken tail light, dent in the rear right panel from my demolished bike rack & rear door from the carrier flexing into it. I was able to winch it out of the ravine using the other floor anchor. I will be upgrading the strength of both of them. Crazy that I have used those same floor anchors to winch my 110 up & down my steep driveway for years. Sorry no pictures in the ravine - I went into damage control mode & didn't think to take any. Here are some pics after retrieval.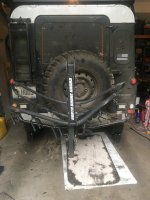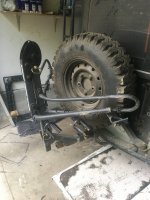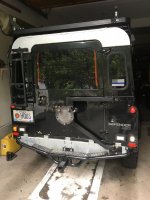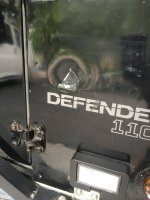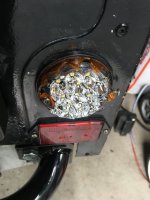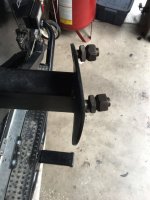 I thought of skipping this post, as I humbly acknowledge how stupid & fortunate I was, but couldn't continue my other thread without the warning.