SOLD
GENUINE 1993 CAMEL TROPHY SABAH MALAYSIA EVENT VEHICLE.

1993
is the only year
TEAM USA
won the Camel Trophy in its 20 year history, with legendary Discovery drivers Tim Hensley and Michael Hussey. This Defender 110 was a
Marshal Vehicle
that very same year.
VEHICLE SPEC
Original UK Reg number:
K317 YKV
Year: 1992
Vin: SALLDHMF7JA
Maker: Land Rover
Model: Defender 110
Engine:
200Tdi(Turbo Diesel Injected)
Transmission: upgraded R380
Transfer case: LT230
Braking: disc brakes front and rear
Equipment: ANR1534 rims, Mud tires, Brownchurch roof rack, Original CT brush guard, 10,000lb Husky Superwinch(included), dual fuel tanks, Hella 1000 lights.
Media Features
page 188 1994 edition of "Camel Trophy - The Great Adventure" book. Official Camel Trophy book.(see attached photo from the rear)
page 44-47 October 1998 Issue 11 Land Rover Owner International "Sands of Time".
Numerous Camel Trophy 93' event photos of K317 YKV exist.
Known Vehicle History
Build date: July 15,1992
~1992 deployed from Land Rover factory to Poland for Camel Trophy Driver training.
~1993 redeployed to Sabah Malaysia for Camel Trophy 93'.
Owner 1: ~1995-~1997 Won Superwinch competition at Eastnor Castle, used on expedition to Morocco and the Sahara Desert.
Owner 2: ~1999-~2004, Vehicle was rolled over in UK, fully restored by highly qualified shop and shipped to Namibia in Africa. Driven back to UK via Egypt and Saudi Arabia after spending several years in Zambia, where it was serviced by Foley Special Vehicles.
Owner 3: ~2005-2010, Camel Trophy Enthusiast, shipped to Livingstone Zambia. Used as Safari Companies rental fleet support vehicle.
Owner 4: 2010-2017 Land Rover collector in South Africa. Mostly stored indoors.
Owner 5: 2017-present, American Land Rover Enthusiast. Lightly restored in Cape Town. Imported to USA 2019. Titled in North Carolina.
Overall Condition
K317 YKV has lead a very interesting life. This vehicle and its history are well known by the Official
Camel Trophy Club
in the UK. There are several parts of K317 that are not original such as the roof rack and seats. There are a few Camel Trophy parts that are missing, which can easily be acquired such as...pick ax, shovel, sand ladders and limb risers. This vehicle currently runs very well and shifts smoothly. The timing belt history of K317 is unknown to the current owner and should be replaced by the next owner. There is no heater box installed in K317 or battery kill switch. Headliner is new. There was previously a sunroof installed. An aluminum patch now covers the hole.
Additional information
K317 is located in
Wake Forest, North Carolina
, 20 minutes from Raleigh-Durham International Airport(RDU) and is available for viewing. Prepurchase inspection is highly recommended. A Dropbox album with 170 photos is available.
Thank you for viewing this listing.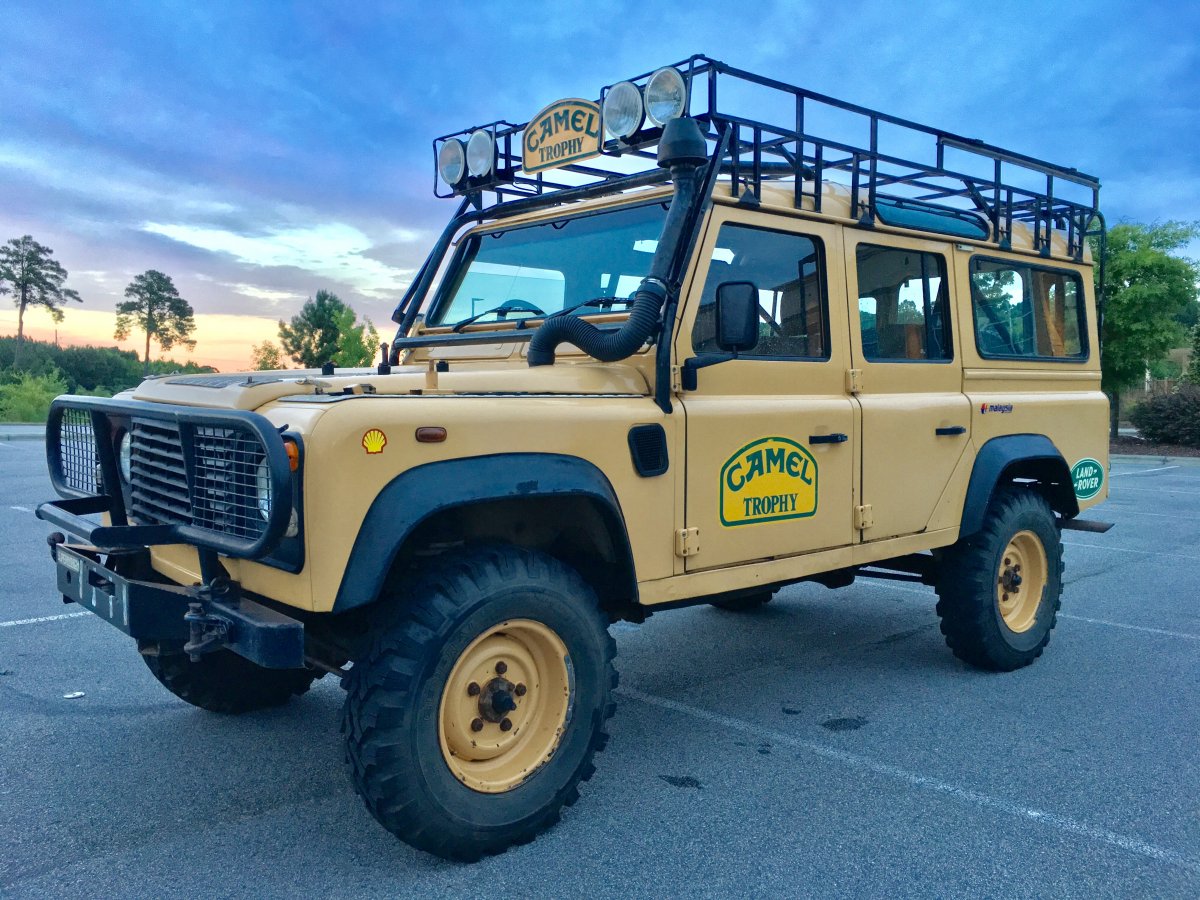 Last edited: