Technical Excellence Contributor
Quick fix notes on leaking pinion seals on Salsbury rears. If your pinion has a groove or pitting, it won't seal properly as it requires a smooth surface at the seal. Rough surfaces cause too much wear/degradation as well as are prone to leaks. Two easy fixes: 1 is replace the pinion flange Assembly. Sure thing, but not necessary for solid fix and current 2021 prices will be in the $100-200 range. The second way, for $20-25, you get yourself a new seal (National 9316) , and a Redi-Sleeve (National 99187). Take off pinion flange. Many folks mark the exact position of the nut for reinstallation, som just torque to 125-150lf-ft, some do a tear down and install new crush sleeve. Pick your poison, I'm torquing to 125-150. Mine was frozen on there so I had to take out Brutus, my 3/4" thick frowns foot bearing puller: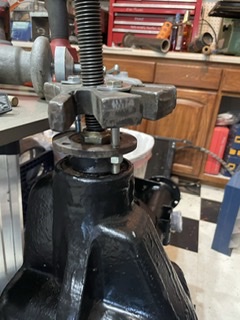 and it reluctantly came off. Then take out the seal and clean everything off. Since I had my axle apart, I used a standard seal extractor but if removing seal in situation, you made have to put a couple screws through your seal's metal outer band and use vicegrips or slide hammer. Take the flange to your work surface and clean the surface very well. The redi-sleeve comes with an installation cap that you will use to tap it on. It's a tight fit that will require gentle tapping to get on and p,entry of installation videos online (just search Reid-sleeve install). I first put on a dab of gasket shellac on the pinion flange surface— it will add a little lubrication but also eliminate the remote chance of seep between surfaces (fixing an issue that may not even exist, lol). tap it on slowly and squarely and then remove the cap, wipe any excess shellac, and you're done. Reinstall your pinion flange to chosen spec/method as mentioned above.
buggered flange: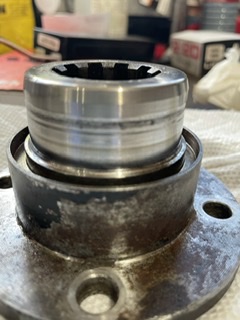 Redi-seal with install cap tapped home: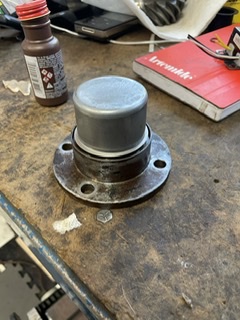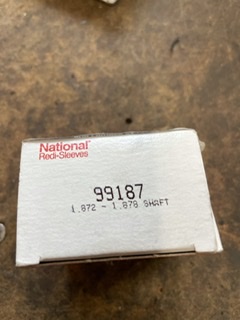 finished: