Some decent deals going on at NAPA.
Buy a .99 bag, and anything that fits in it is 20% off. Must have 3 items at least but good for things not on sale. Good until 10/31
Some CRC brake cleaner (brakleen) is half off depending on what you get. I bought 5, 19oz brake cleans for $3 each online for pickup in store. Got $5 off for signing up with new account. Paid about $11 for 5 cans of brake clean.
Link here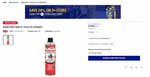 *Napa also supports the
Intrepid Fallen Heroes Fund
. So happy to support them when possible.