Glass fuse to blade fuse conversion. 1986 ROW 110 W/2.5 NA swapped to 200tdi. Blade fuse conversion kit from DefendersNW. I want to maintain the original order & labeling for the existing twelve (12) fuses (New fuses will be turned sideways). I've ordered a new label that matches the original pictured & I'll be printing word labels for the symbol impaired (like me). Identification problems - I can trace the reverse light wires to a fuse on the wiring diagram, but it doesn't indicate which fuse it is & I don't see a symbol that makes sense. Here is what I have so far:
Left row from top:
Clock, horn, interior lights & a mystery symbol that looks like a headlight with an "F"
Hazard lights
Washer wipers
Blower fan
Stop (brake) lights, turn indicators & gauges
Fog light
Right row from top:
R side low beam
L side low beam
R side high (main) beam
L side high (main) beam
L side tail & side lights
R side tail & side lights
Edited to separate the columns of fuses that were put together when I first posted.
The mystery symbol could be forward running lights?
I also have two (2) additional fuse blocks with two (2) fuses each that may have been added for the now removed Webasto heater & (?).
I am going with double reverse lights, instead of a fog light, so locating the reverse light fuse/wire is needed to wire them correct.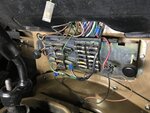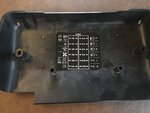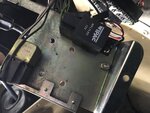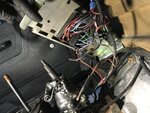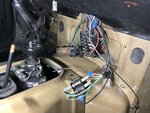 Last edited: