As a companion to my rear axle thread, thought I'd start a separate one on my front axle design & build.
Plan is to use the same fabricated housing and 3.5" axle tubes as the rear and upgrade my 3-link to welded on brackets & DOM links.
Firstly, the axle... decided that I didn't want to use D60 king pin knuckles & C's as there getting old and Ford OEM stuff is expensive due to this. Later 99-04 SD unit bearings are good but as they'll need redrilling didn't want to do that if one failed, earlier ball joint knuckles will fit the SD C's but there getting scarce and are expensive too.
Looked at using the D50 TTB ones but there are no after market C's available and grafting on the rectangular beam ends just looks so red neck. D44 can be built strong with all CrMo parts but your maxed out at 30 spline stubs.
So, after some hunting around I found out the Dodge guys use Ford D60 spindles to convert from unit bearings to regular hubs. Looked at the prices of the knuckles and there about half of what people want for the Ford BJ ones. So, happened to see some in Alberta on EBay and bought them.
They look like this :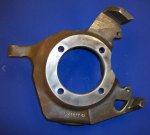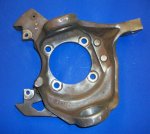 And they'll fit right up to the 99-04 SD C's that are available from Dana and have a 3.5" Tube ID.