1997 NAS90 GEMS 4.0 Auto. Having driven in a torrential downpour for 4.5hrs a few weeks ago, the next day my engine started hard and ran very rough with an erratic idle. Another day later, it turned over strong (fresh battery) but now won't start. Initially I suspected it was from the soaking drive that maybe affected an engine sensor (IACV, throttle position sensor, stepper motor, VSS) to cause the rough erratic idle.
When the truck
was
starting, it would immediately idle erratically climbing to 1500-2000rpm for say 10-15 seconds, then back down to 1K. If I tapped the pedal, it'd continue to climb and stay at around 1700 then ultimately subside. When in gear, RPMs stayed up as I backed out of my driveway, down my street and back (with foot on brake). During this initial running issue, I could still hear the pump cycle on for a few seconds as usual just before starting. That night, I noticed the tank was getting low on fuel so I refilled 3 gallons of gas that I treated and called it a night. The next day when starting, I didn't hear the pump cycle on. The engine continually turns over strong but will not start now.
Side note issue
: My fuel gauge had been waving in the wind with the slosh of the tank since I replaced my rebuilt speedo last month. I think I located the ground from the fuel pump and fuel sender unit connecting back to the LT230 and it's secure to the box. This ground location to the gearbox seems to confirm with the wiring diagram. I also used an endoscope to follow the harness from atop the tank connector (pic3) and into the frame and don't see any chafing/crimps from what I can tell. There are no grounds behind the rear speakers as in other trucks so not sure if I should be looking for another.
What I've done so far
: All fuses under hood and in cab seem to check out for continuity and voltage (if I'm checking properly). I've located the relay module (pic1) that houses both the fuel pump relay and main relay but have not figured out how to test the pins just yet. I understand the fuel pump relay is fed from the ignition relay & controlled by the ECM so I pulled all the connectors to the ECM (pic2) and sprayed them with electrical cleaner. I can still hear the delayed click as normal here soon after the key is turned to off position so I think that's working and will move on from that for now. I also reset the inertia switch in the engine bay. Fuel filter is 4yrs old.
QUESTION: Given this info does anything stand out for the best troubleshoot approach or testing methods to take before I have to drop the tank to check power at the pump (which I really don't want to do just yet). I still need to consider the ECU immobilization under the dash as that could trigger off the starting and fuel circuits from what I've read but again, not sure how to test.
I'm trying to do my best with my basic electrical knowledge but after researching the various 97nas starting problems, I'm falling short.
Thanks for any input/direction or ideas. -Kev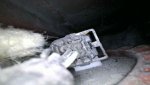 Last edited: