Hey everyone, if this is definitely the wrong place to post this, I absolutely understand and do not mind having this pulled down.
Unfortunately (but fortunately), with the addition of a new child to the family, I need to look into swapping Defenders to a 110 or 130 (so if you have one for sale, I would love to touch base after the auction is done). The D90 would have been good if I could have figured out how to add a baby safe option that the wife agreed upon, but so far, no such luck.
I have posted this on several other locations, but I'll try and keep this a bit more original so that I don't cross-pollinate with other forums.
I originally bought this from an individual in-state after conducting an in-person inspection knowing that the following had been done to it:
Rear cross member replaced along with some welding done to address rust on frame (no more concerns according to GBR inspections)
Rebuilt drivetrain with uprated GBR drive shaft installed
Disc brakes overhauled
New springs
Rebuilt front swivels
Replace tie rod ends, pitman arm, alignment completed
Front radius arm bushings replaced
Rear trailing arm bushings replaced
Replaced t-case mounts
Resealed the oil pan
Serviced all wheel bearings
Replaced A-Arm ball joint
Repaired exhaust
Replaced ignition electrical
Under my ownership I did the following:
Uprated Turbo Technics VGT
Completely rebuilt fuel system with new fuel tank, fuel lines, fuel lift pump, rebuilt FIP (professionally tuned with boost pin and advance timing spacer), and rebuilt injectors
New rear brake drums
New alternator
New starter
New water pump
Raptor Engineering components
VDO Gauges with digital speedo
Double din radio with touchscreen and wireless Apple / Android car play
Midland CB Radio
Plenty of switches to add whatever you want to the vehicle electronically
Exmoor Trim mats
Mesomat sound dampening
Front Runner Steering Guard
Bilstein shocks and steering dampner
It runs and drives great, and starts upon the first glow plug. If you have any further questions regarding the vehicle please let me know and I'd be happy to provide photos, videos, information, receipts, and whatnot.
For the trailer, it is a custom built trailer with independent suspension and braking, and comes with a working sink (40-gallon water capacity), Tepui Tent, and 100 Watt Solar Panel).
I hope y'all enjoy reviewing. Please share!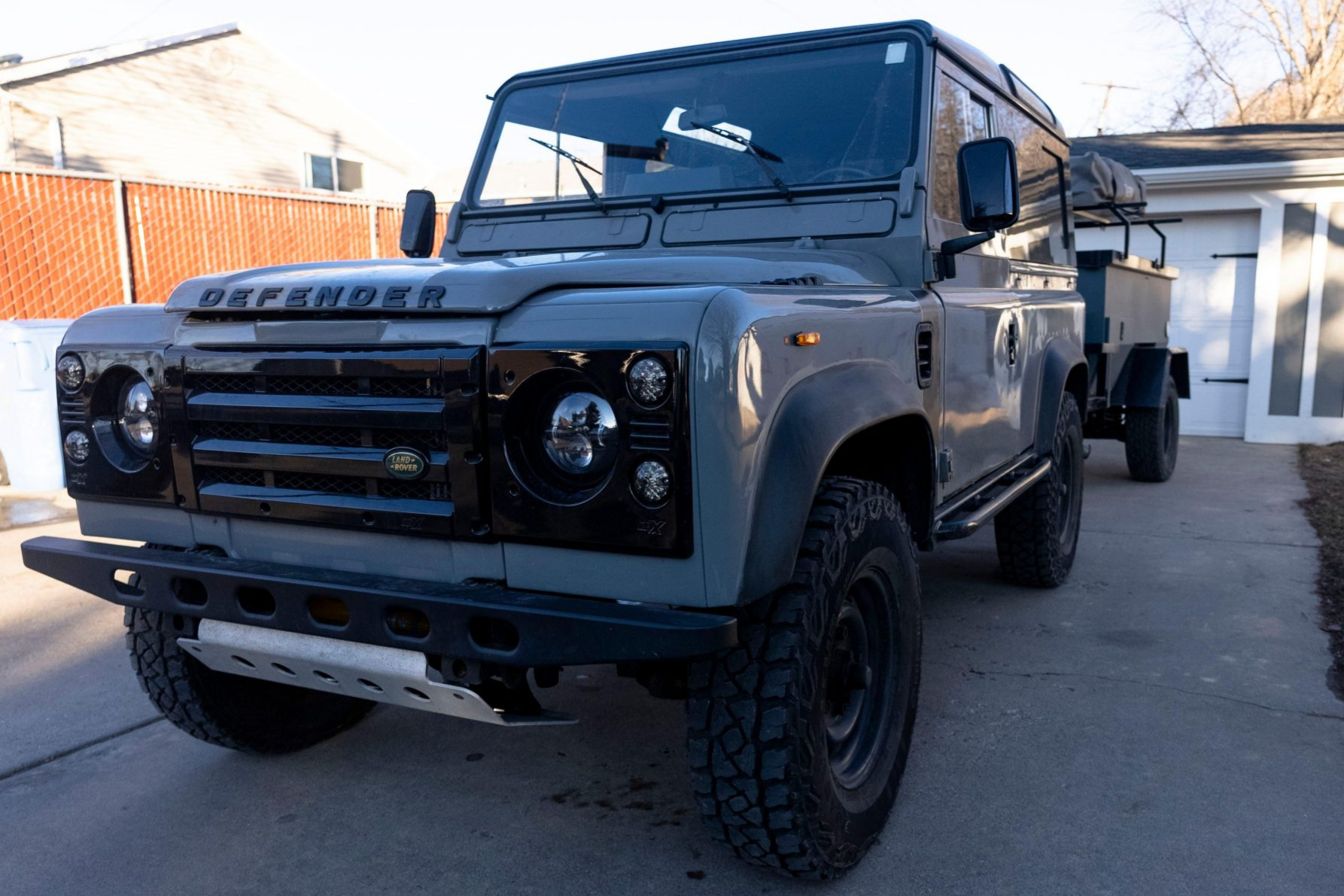 Bid for the chance to own a No Reserve: 1993 Land Rover Defender 90 200Tdi 5-Speed w/Trailer at auction with Bring a Trailer, the home of the best vintage and classic cars online. Lot #67,051.
bringatrailer.com