Stupid issue -- the hood on my 90' is completely stuck closed. The release pull-cable inside the cab appears to not be broken, but does not "release" when I pull on it with a normal amount of force; I can get at the release latch on the front, but the hood remains jammed closed.
Any suggestions short of using more force? If it matters, this happened right after re-attaching the hood.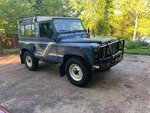 1989 LHD 90 with 19J.