Technical Excellence Contributor
Keeping up the tradition.
Out of my 100-pound trail spares box, at least 10 pounds are taken up by the starter. Not that 10 lbs are going to break the camel's back, but ...
If you are like me, have you tested your spare starter motor? How do you know it's any good? Especially since all of them are of the "well, it hasn't died yet but I'd replace it anyway" take-offs.
The new and rebuilt starters for Land Rovers state-side went down in price nearly to Big-Three Autozone levels - down to about forty bucks apiece. But, just like the alternators, you never know what's been replaced inside or what parts have been used to build or rebuild them. That is my excuse for spending my shelter-in-place time to peek inside, and have myself both a spare unit I can trust and come up with ways to lighten up that box of spares.
But before I commit myself to weight savings, I need to check if I can get parts, if they fit, if I can install them, and the starter is better than before.
Now, what are we talking about?
First, part number.
As anything from any vehicle, there is a legion - for the same part. Latest entry from Antlantic British reads RTC6061N; my recent huge favorite,
Maniac Electric Motors
is far more verbose:
BOSCH STARTER #'S 01109040, 187-0779, 0-001-109-040, SR0801X, 111865, S-6171, 410-24045, NAD101190, NAD101490, LRT00169, 12445, 17683, VS470, 17453N, 17792N, 2-1899-BO, 2-2714-BO-2, 91-15-7105, SBO0060, 187-0467, 0-001-110-120, SR0801X, 111865, S-6171, ERR6087, ERR6087E, LRT00169, 17705, 17317, STR-2228, 458253, VS470, 567808, 17453N, 17792N, 2-2714-BO-2, 91-15-7039: LESTER 17792 / PIC # 120-387
Your starter may be made or labelled "Land Rover," "Bosch," "Lucas," have no name, or, in this particular case, "Chrysler Corporation." And "Bosch," for clarity.
I may be over-generalizing here, but my guess is that the same part will fit everything that used Buick 215 derivatives (3.5, 3.9, 4.2, 4.0, 4.6) within NAS years of 1987 to 2002. I don't know if ROW trucks used the same unit - if not, the parts may be different, but the idea is the same.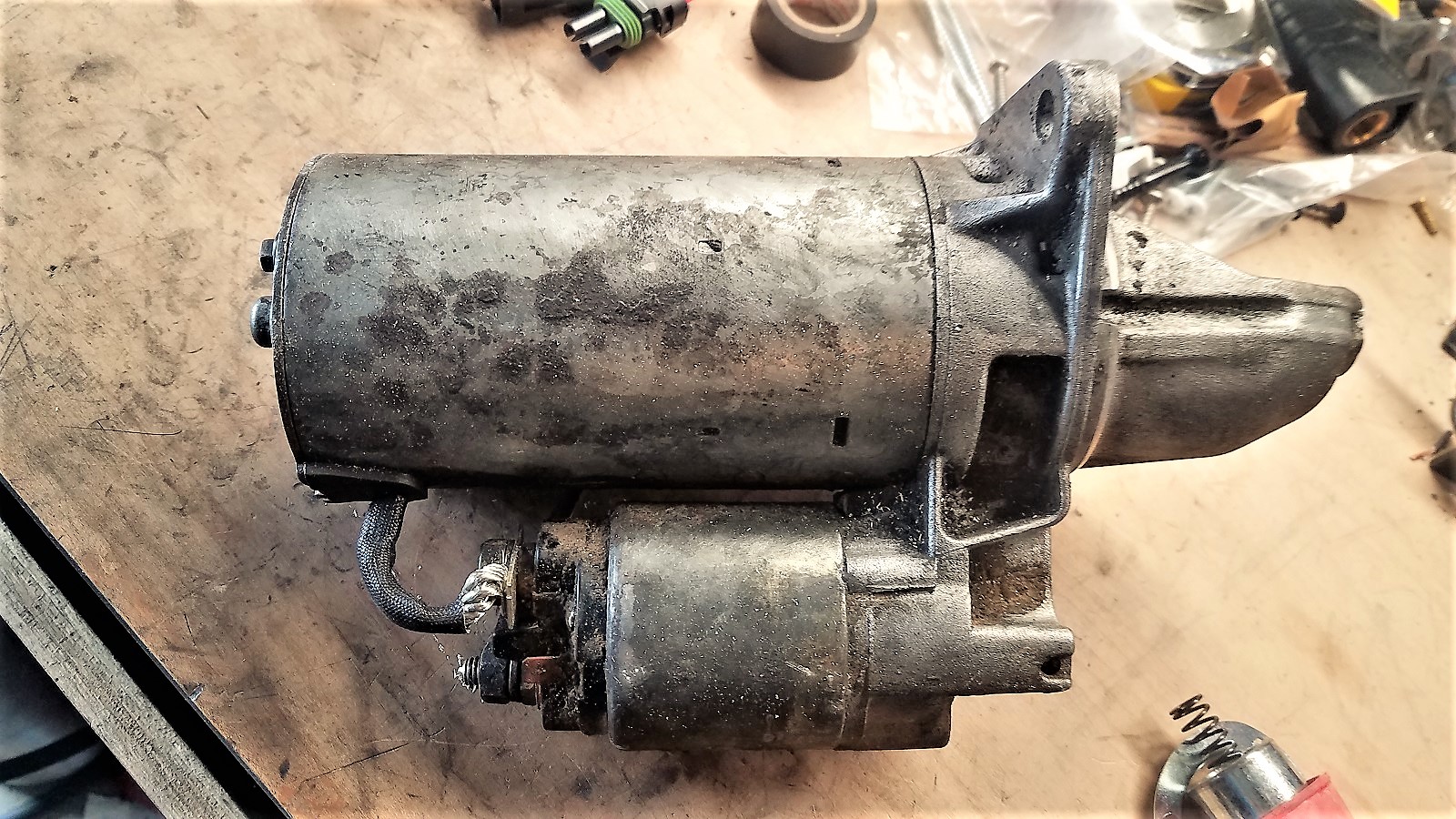 The turd on my bench looks shiny because it was so crusty that I took a wire wheel to it. A lot of fine Utah/Arizona/Nevada/Colorado/New Mexico dust well mixed with motor oil and turned into rust-preventing slurry by the heat of exhaust manifold nearby. Your starter may vary in color - from black paint liberally plastered by a cheap rebuilder to black slurry leaking down from under the passenger-side valve cover gasket.
If you already have it in hand, skip the next section; if you don't - you need to extract your starter from your truck. It is accomplished in a few simple steps:
Starter removal from the vehicle
Disconnect the battery (negative terminal will do). Skipping this step will test your ability to yank a 13-mm box wrench free before it welds itself to the engine block.
Have a beer. You won't be able to have another one for a little while.
Use the 13mm box wrench or socket to disconnect the fat wire from the fat terminal on the starter.
You'll be working in neat confines in close vicinity of the front diff, axle, and sharp-edged suspension and frame parts. After replacing a handful of starters, I am convinced that your best bet is on the ex-Soviet Army tank helmet, but I never got around to procure one ($70 on eBay at the moment of writing, Lenin not included).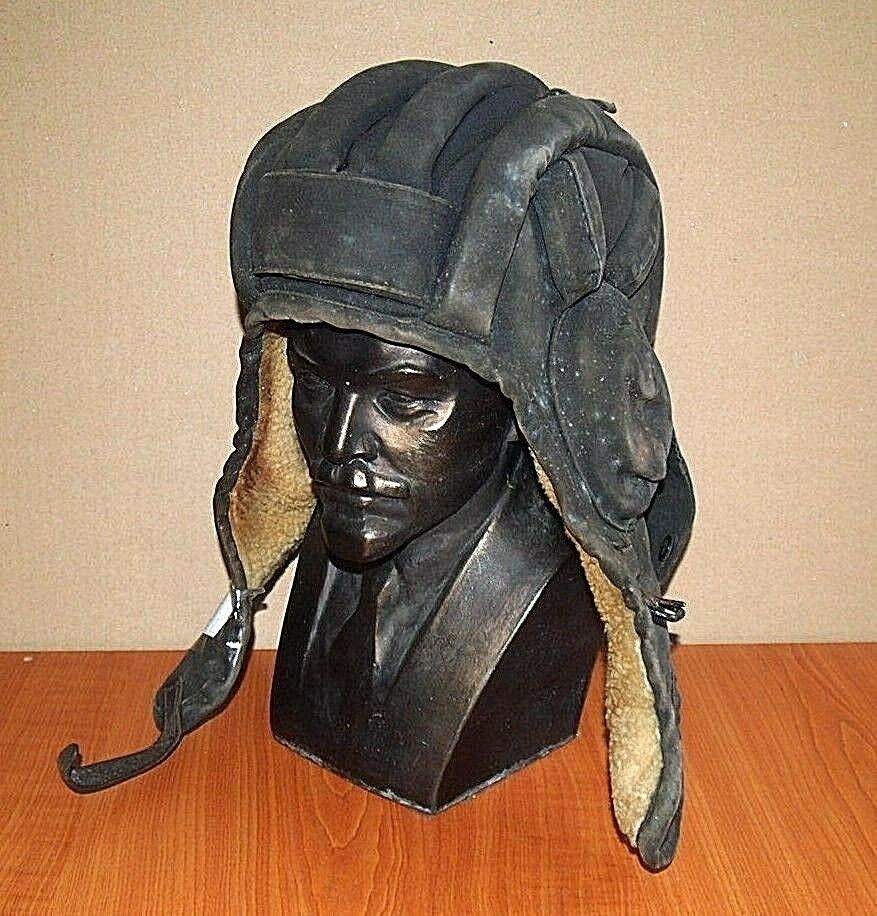 By the way, the nut may also be half-inch, or 12 or 14 millimeters - so have these wrenches nearby.
Next, pull the solenoid control connector off the blade terminal next to that fat nut.
All electrical connections are now off, it is the fun time with the starter bolts. For these, you need - typically - an 8-mm Allen driver.
The bottom bolt is relatively easy to access, so getting it off will lend you a false sense of accomplishment. The feat of removing the top bolt - if you don't do it on a regular basis - is far more advanced. Give your creativity a workout: the top bolt can be removed with a combination of a (very long) L-shaped driver, short or long 8-mm driver with short or long extension, ratchet, and assorted wrenches used as breaker bars.
If you only engage the driver by a fraction of millimeter because the hex hole is filled with oily mud and strip the bolt, it is time to enjoy another beer, because now you need to remove the exhaust manifold and drive to the store for a set of EZ-outs.
Once the bolts are out and wires - out of the way, you can remove the starter.
Oh no... there's that heat shield on the way. Unlike most proper warm-blooded American heat shields held on by the spring clips on lesser vehicles (that would have long since been gone), Land Rover one uses a machine screw holding it tight to the right-side engine mount bracket. It is a bitch to get to, and even when you undo this bolt, you'll have to exercise your spatial imagination to wiggle it out.
If that's any consolation, be happy it is not an Audi.
Now you have your starter.
It is kind of long - but it still blows me away that I could replace a starter on a Buick 350 V8 in a Jeep in 15 minutes at the parking lot, and it has never taken me less than an hour in a Land Rover with a Buick 215+.
OK, let's take the starter apart.
You don't need a whole lot of tools: a 13-mm nut driver (or, as I mentioned above, maybe a 12mm, half-inch, or a 14mm), a 7-mm nut driver (no US substitutes!), and a Philips screwdriver. You may need a flathead screwdriver and a hammer later, but these are optional.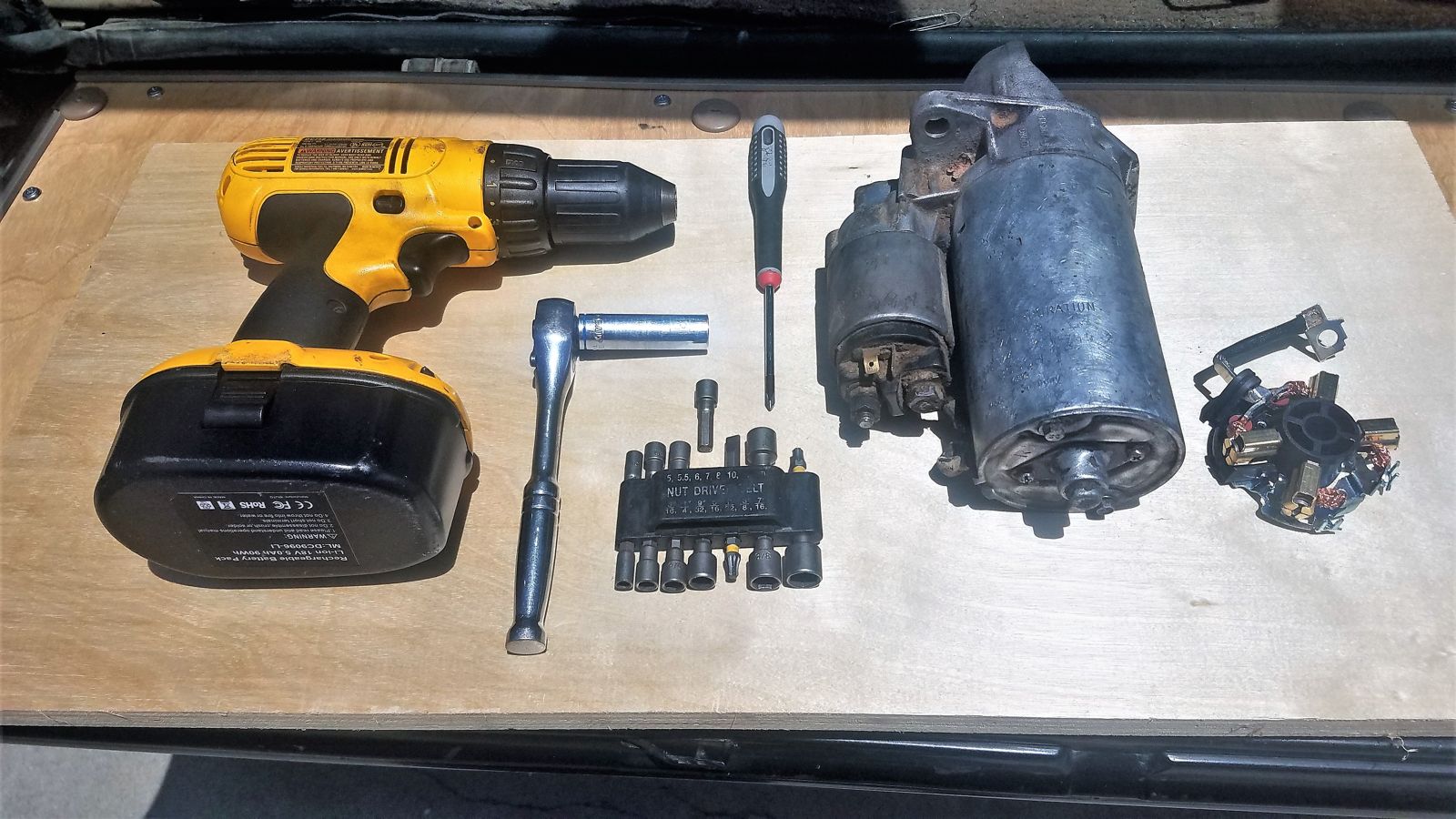 Here's a photo of what it would look like if you took it apart like Sean Campbell in Chicago (who's photo I shamelessly appropriated here):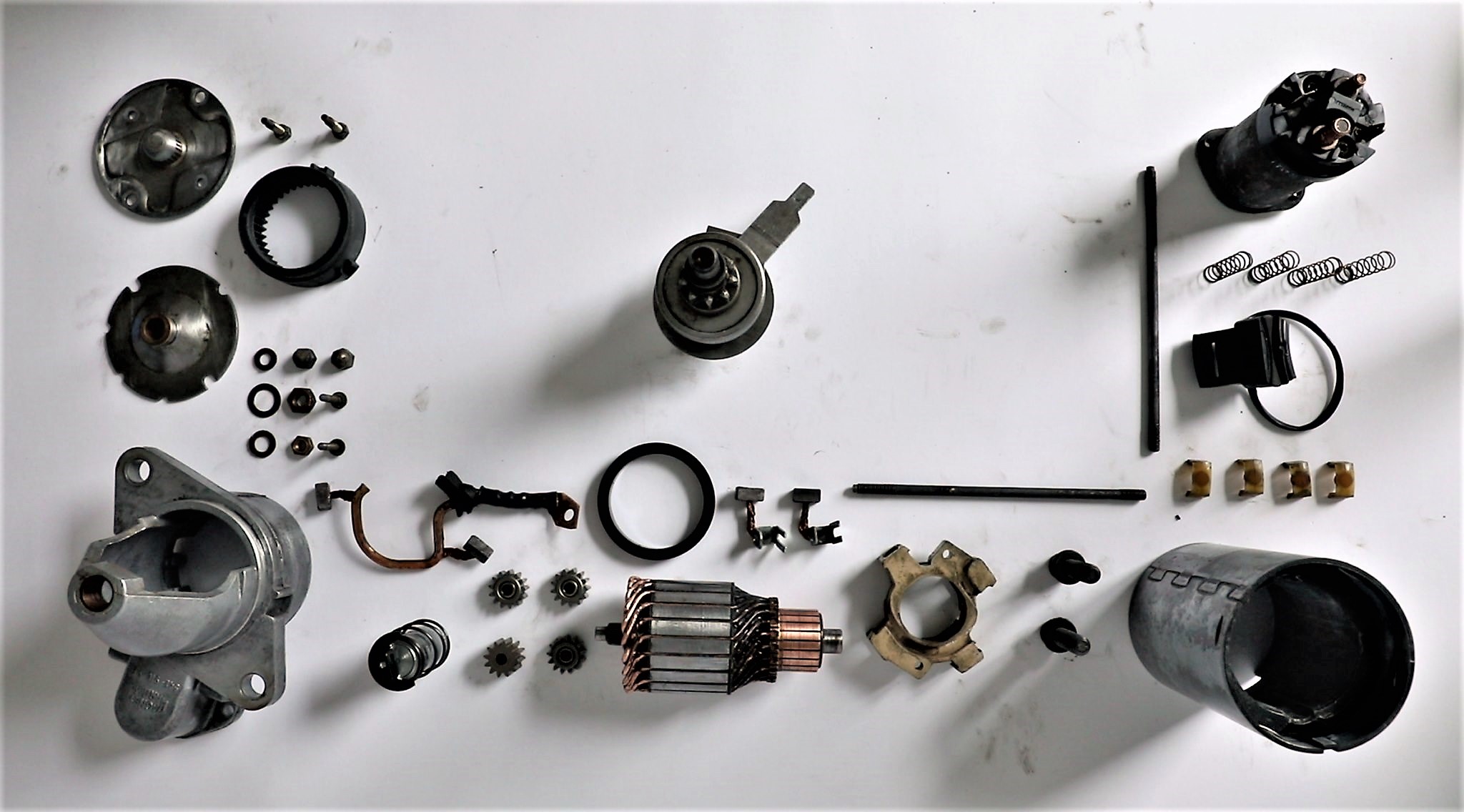 I am not sure if I'd ever be able to put it back together if I did it all at once, but, most likely, we don't need to break it down into tiny pieces.
So, we'll stay true to our "roadside repair" option and do things in stages.
The first thing that goes bad in nearly any electric motor is brushes. To get to them, we need to remove the rotor from the body of the starter (see photo below):
Unscrew the 13mm nut (12mm, 1/2", or 14mm) holding the fat wire to the terminal of the starter solenoid near the starter body (shown by downward arrow);
slacken but not remove two Philips screws holding the bearing cover; and
unscrew the 7-mm hex bolts from the back of the starter motor (shown by horizontal arrows).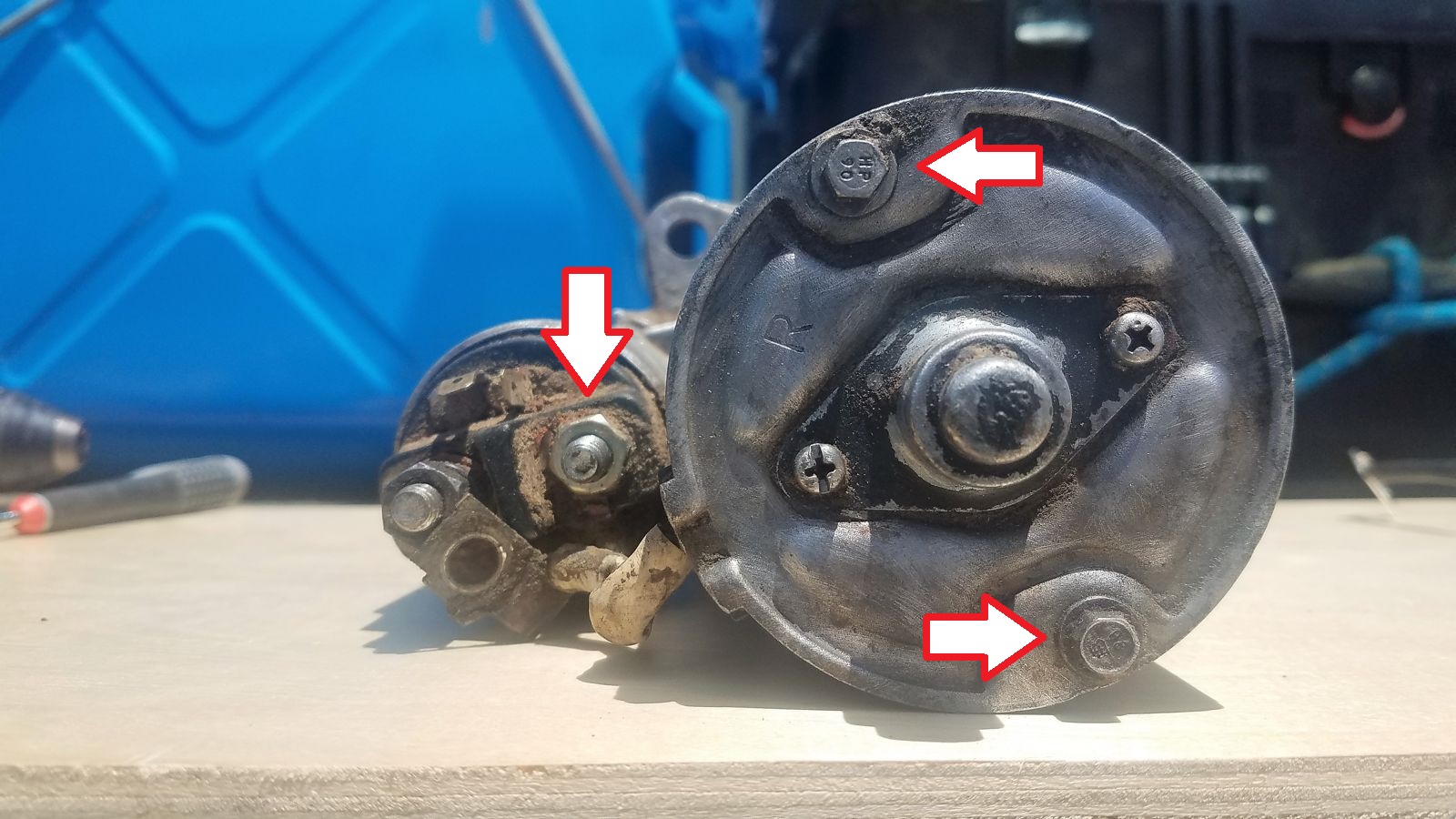 Now, try pulling the rotor together with the back cover out of the cage. Most likely, the cage will leave premises along with the rotor - no big deal, but remember how everything fit together: there's a plastic part between the cage and the planetary reduction gearset, and they only come together one way.
Depending on how crusty your starter is, you may have to use that flathead screwdriver and a hammer to separate the back cover from the cage. Don't go full gorilla, though - you don't want to bend the cage and have the magnets fall off.
Otherwise, pull the rotor with the back cover from the cage - magnets will resist, but you will persevere: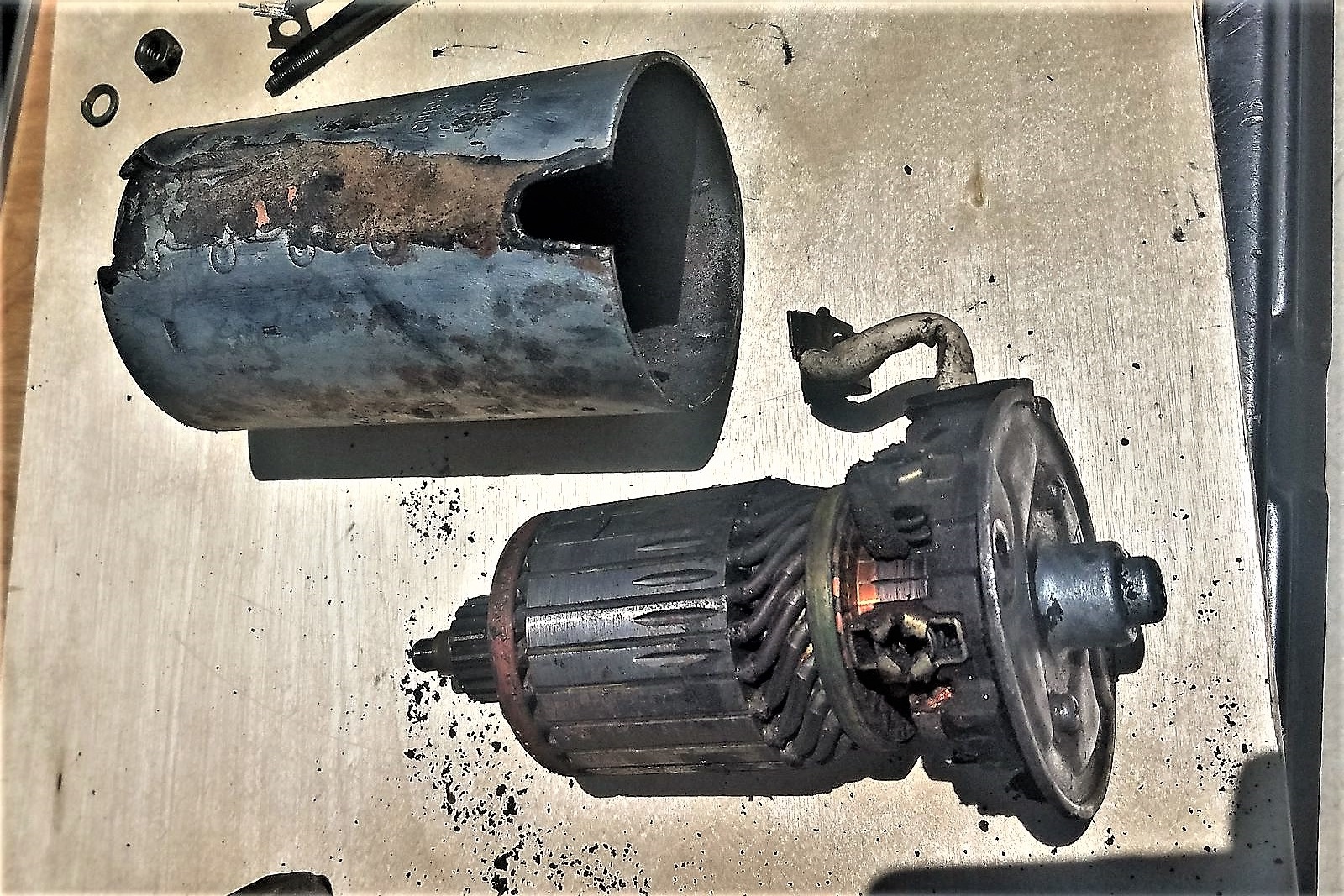 Note the difference in shape of rotor winding from one shown in Sean Campbell's photo earlier - if your rotor looks like one shown earlier, you need a new rotor. Which is about the price you'd pay for a new starter.
Twenty bucks say the cage will be full of nasty crud, composed of grease, motor oil, dirt, and fine dust from the brushes. Take your time to clean up the cage, at least to some extent.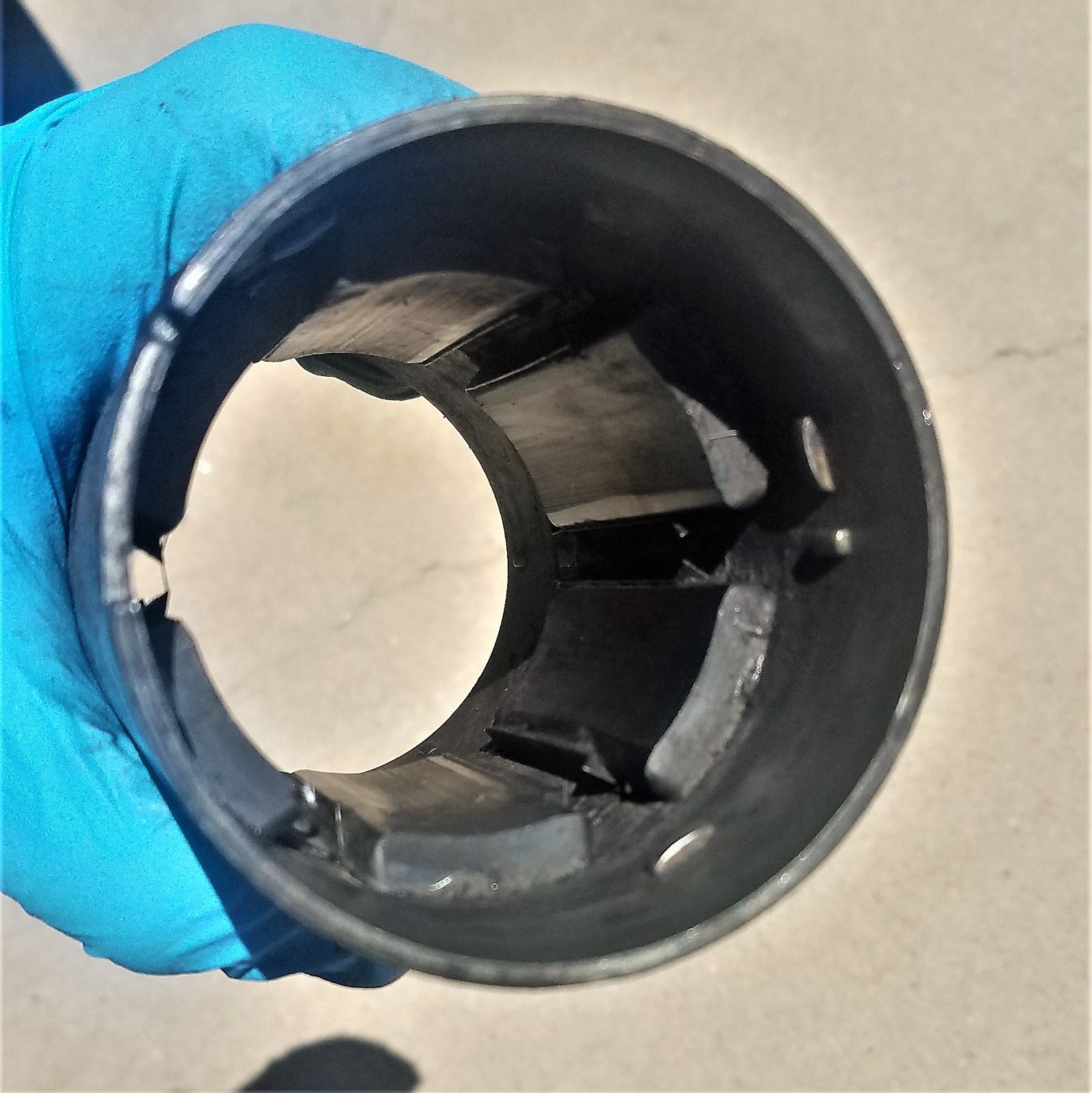 It would not hurt cleaning up the "underside" of the cage, where a stamped steel piece separating the rotor from underlying plastic will likely be full of the same nasty mud. Again, remember how that stamped steel piece was sitting in relation to the cage and plastic underneath.